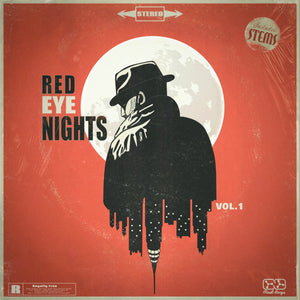 Red Eye Nights Vol.1 (Composition Pack) [Royalty-Free]
Regular price
$34.99
$0.00
Unit price
per
It's been a long time since we've released a pack but let me tell you, we weren't sitting around day dreaming.  However, we were dreaming up something that we personally haven't heard before.  A pack inspired by the nostalgic genre of black and white Noir films, from back in the days. Where a hard boiled detective is trying to track down a mysterious gangster known for creating his own rules or bending them to render result that only benefit his need for power.   However, the plot thickens when this gangster's girlfriend reaches out to this detective to help bring a stop to her boyfriends lust for more power, no matter the outcome.  Well, that's the kind of mood we made an attempt to create throughout this entire pack. 
Red Eye Nights Vol.1 is a composition pack that embodies a jazz inspired soundtrack that one would imagine, would fit in this factitious world.  The Saxophone and Trumpet take the lead throughout this pack where the Upright Bass, Piano, Brass, Strings and other instruments play the supporting role.   This pack includes 10 original compositions + stems and the compositions that have drums, also have a version where the drums are removed from the mix. This will give you more flexibility when it comes to chopping and slicing your samples for when you want a clean take without the drums getting in the way. 
Red Eye Nights Vol. 1 is our most ambitious pack release to date. We've put a lot of love, time (6 months plus) and passion with careful attention to detail in this project and we believe that it shines through in the final results.  We hope you enjoy this pack and as always, thank you all for supporting Reel Loops.  We do this for all those looking for inspiration to jumpstart their next record.
Thanks Again & Enjoy.
*This pack is 100% royalty free, however production credit is required. please read the PDF that comes with this pack (available upon purchase).
Click Here to see the basic terms.
 Included in Red Eye Nights Vol.1:
10 Original Royalty-Free Compositions (+76 Stems)

All Compositions have an option w/o Drums Available (Where Necessary)
Labeled by Key & Tempo for All Compositions
All tracks are in .wav Format (44.1k)
Compatible With DAW's and Samplers where .wav files are supported
---
Share this Product
---